Test Recipe #3: Shrimp de Jonghe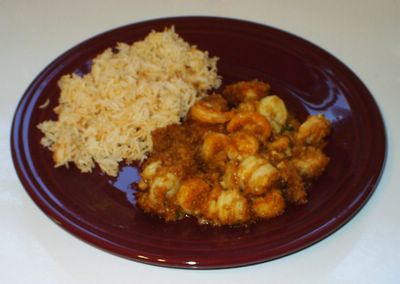 What a fantastic recipe! Incredibly simple to make, with lots of flavor.
Boil shrimp, just barely (I cheated and used pre-cleaned and -deveined). Drain, rinse in cold water, drain again.
Melt butter in pan, and saute minced garlic. Stir in shrimp, dry sherry (always gets "
Sherry
" stuck in my head), chopped fresh parsley, salt, cayenne and paprika. Add some dry bread crumbs, stirring until moistened.
Pour into a buttered casserole dish, top with remaining bread crumbs, and bake about 25 minutes.
That's it! So easy, and really tasty. Matt served his with a side of 'dirty rice'.
Let me know if you want the recipe...